Time does fly when you're having fun, and it couldn't be more true out here in Big White!
I wish there was some kind of 'slow motion button' we could press as we really don't want to be thinking about having to leave this paradise hill any time soon! The time is ticking away so quickly now that we've passed the midway point of the season!
However after an amazing week off last week, all the students were thrown straight back into lessons with the mind set now being that they need to knuckle down hard to pass their level 2 and level 3 exams in a few weeks time. This weeks focus for the level 2 trainees was Analysis.
Now that ALL our students are either Level 1 ski or Level 1 snowboard instructors they must be able to analyse other skiers and boarders riding movements and skills and correct and adapt them to help others improve. It's great to see how most of the time our students naturally watch people off the chair lift and critique and discuss between their peers the riding and skiing techniques that they see the people below using … What little professionals they have become in such a short time.
For the level 3 snowboard trainees the focus was on rider improvement for the first half of the week and they spent the second half working on honing their teaching skills. For the level 2 they will have to deliver longer and more technical lessons, so their knowledge of ski and snowboard instruction is now becoming guru like!  They all loved it and are getting super confident as they whizz down the slopes a mach speeds! Very impressive !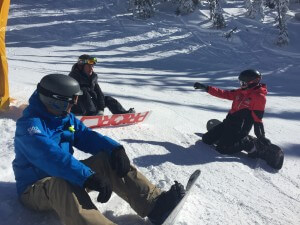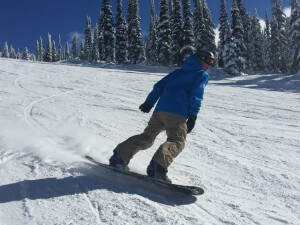 We also introduced the Park a bit more to our students this week and have given them the option to have some lessons in the park every Thursday evenings. This week we saw some of our braver soldiers head on in there and throw down. They continue to make us proud each week with the devotion and dedication they have to improving and becoming more successful. We hope they will continue to use these skills with whatever they all put their minds to in the future.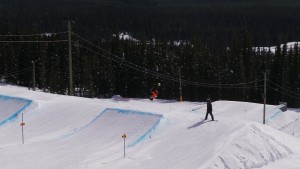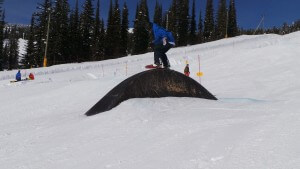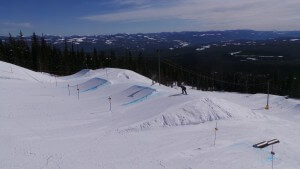 In amongst all the technical progression happening this week we had a week of 'Blue bird' days… Which is sun shine to all of those don't know / haven't had the pleasure of becoming addicted to mountains like us! The goggle tans are coming along nicely now and the ski-lifts are open later…. Going night skiing this week had that same kind of feeling as what you get when it gets warm enough back home to stay out in the garden later and start having a BBQs.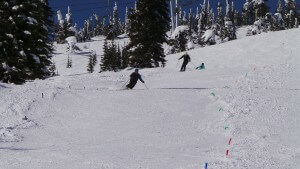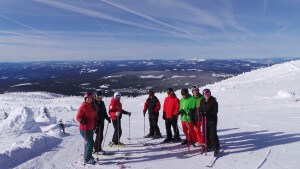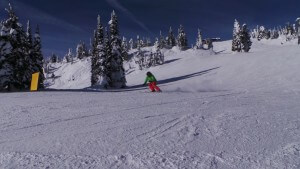 The weekend was another corker! Some of the boys decided to get off the mountain and head down town to the nightclubs in Kelowna and the girls had a Girls night in which consisted of : …. Well that would be telling wouldn't it! But all in all another fabulous week and as much as we don't want to yet move onto Week 8 we look forward to how much we will continue to enjoy watching and being involved with this amazing bunch of NBS students!
Love and snowy hugs, NBS JOEY & NBS ANT.