Wowsers! What a weekend! So the level 1 exam celebrations were as amazing as ever and we are super proud of our students.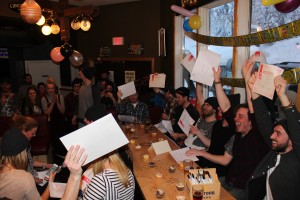 Monday morning was when the focus shifted towards the end goal of attaining that level 2. It's time to get serious. As always our guys and girls stepped up with the same enthusiasm, smiles and positivity we encourage and love to see. It was kind of like how I'd imagine it feels for a parent as their child finishes their A levels and now has to go to university to get their degree. Once split into their new groups with new instructors they set off for the next stage of their epic snow journey!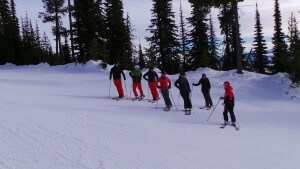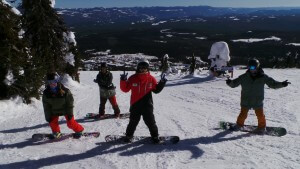 This week was very rider improvement focused and all our team came back each day exhausted but buzzing at how much they are improving. The instructors work them hard and show them many new techniques. This is to not only advance their riding but also to show the kind of teaching style they will need to be mastering to be able to take this step up to the next level. The beginner slopes are now far behind as they now start learning how to shred steeper terrain, off piste and tree lines. The sun came out for a few days too which definitely helps to boost confidence. It also showed off some spectacular views and beautiful sunsets of the snowy peaks of the surrounding mountains.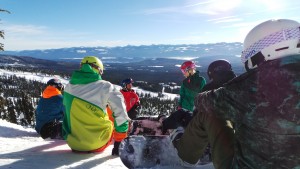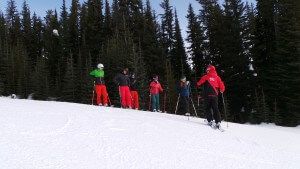 The evenings were fairly quiet this week as people were tired from the hard riding. A few beers in the hot tub and sharing stories of how huge they went was the order of the day. That is however until Friday when we hosted the very first NBS 'rap battle' in SAMs. We had four students who had had birthdays in the previous week and we really like to celebrate with them so decided to pair them into two crews and let them go at it '8 mile' style! It was amazing, the whole pub was getting involved in creating an awesome atmosphere and the guys and girls certainly didn't disappoint! We shall definitely be doing this again…..
To top off the weekend we went tubing which involves sitting in a large rubber ring and sliding down some purpose made shutes. Absolutely hilarious fun with some very competitive racing and simultaneous snowball fights. The highlight though I think was when we went down as a huge snake all trying to spin each other out of our rings as we jostled for position to be the first down. I wonder if we'll ever grow up??!!!………..