For us, unlike many, January is our favourite month of the year where we get to start yet another unforgettable season with NothinButSnow.
Like excitable kids the night before Christmas we couldn't sleep due to the fact we only had a few more hours until we leave for Heathrow airport to meet all our NBS students and head together to the snowy mountains in Canada.
One by one the students arrived into Terminal 3 with bags over flowing, some questionable head wear and some nervous smiles and cautious parents in tail too! Unbeknown to them their children were about to embark on what I can only describe as a life changing adventure. Once the goodbyes were said , like responsible reps that we are , we led them straight to the first pub in departures to all get to know each other. It soon became apparent to us that this was going to be one amazing season as we could see almost immediately how well everyone was getting along!
About 15 hours later in the pitch black of night and with the English rain a distant memory we arrived into the resort all safe and sound.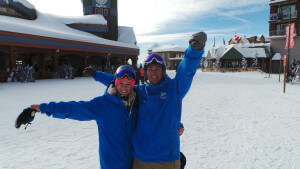 Tuesday morning came around and our students were as happy as chubby kids in a cake shop! There were many beaming smiles glowing from ear to ear, after waking up to snow upon snow, never ending views of beautiful mountain ranges , hot tubs on icy balconies and having spent their first night with new found families. NBS Ant and I knew that our job was going to be a pleasure this year as the vibe among this group was absolutely buzzing!
After collecting the guys from their apartments and houses we took them on an orientation tour of the village which ultimately involved showing them their potential second home here….. Snowshoe Sams, the local drinking hole…. It's here that we will probably all frequent daily for the next three months for some après ski beverages and jäger bombs if they are lucky ! Anyway back to business …. We then held a 'meet and great' session with all the ski and snowboard instructors, sorted all equipment fitting and collection out and kitted everyone out with their all important season passes!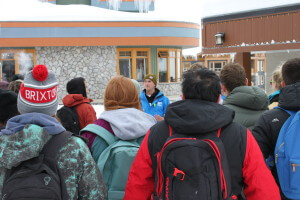 Wednesday morning we organised a group shred and from riding and skiing around with everyone we could see the standard was strong this year, which is fantastic! For the afternoon we allowed the students to explore the resort themselves, rip around the mountain and generally find their feet whilst bonding more and more as the day went on…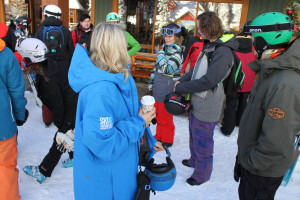 Thursday brought day 1 of lessons and some fresh power too! We watched them all go off with their ski and snowboard instructors and we felt like proud parents seeing their children off to their first day of school! We knew they'd all be just fine, already all working as a team, all looking after and watching out for each other. Just as expected only positive comments were received at the end of the day from all instructors and the atmosphere is Sams was electric as everyone shared stories of their day in classes, and shared jugs of beer alike !
Friday yet again the conditions were perfect and the snow gods were, and still are, being very generous to us here. After classes were finished for the day we had a quick recap with everyone to make sure all was well in camp. It was , and to celebrate that , like every Friday, we take everyone our for a group meal. This week we went to Santè's restaurant to line our stomachs and filled our hungry , exhausted bodies !
As to be expected on Saturday morning there were a few sore heads, but hangovers here vanish once you get up top and breathe in the fresh air…. Or the hair of the dog worked better in some cases!
Once a month here at Big white they run a Cruz the Blues event, and luckily for us it fell on our first Sunday! It's like a treasure hunt where you have to find the stamp boxes hidden on all the blue runs. So we all got together and collected our booklets ready to stamp, the more blue runs you get down then the more stamps you get! This helped our students get to know mountain run names which is a massive help to them whilst teaching lessons. After that we headed off to Happy Valley to collect our free t-shirts for taking part and entered into a raffle for lots of prizes! Some how this day ended with a Human pyramid, some funny dance moves caught on camera and for others after the busy weekend, early nights were had in preparation for the next and first full week of lessons!
Over and out from the reps:
NBS Joey & NBS Ant ??❄️